CONTACT
Learning and Visitor Services
kunstvermittlung@k-haus.at
T + 43 1 587 96 63 20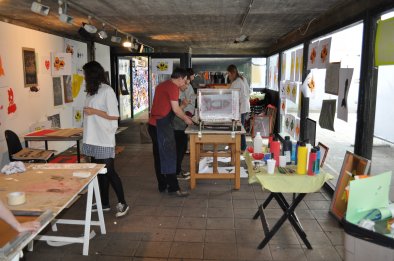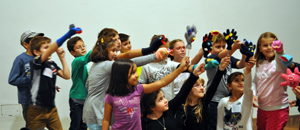 The Künstlerhaus team is dedicated to enable various learning experiences for a wide range of audiences and to involve all visitors in meaningful experiences with arts and culture.

A core objective of Künstlerhaus' art learning programme is to facilitate meetings with artists and to make the wide variety of artistic creativity processes accessible to the public. Through dialogue-oriented tours, interviews with artists and curators as well as creative workshops, exhibition matter is analysed and interpreted by drawing upon individual knowledge and experiences, and new levels of meaning are developed. The active discussion of art and culture is oriented towards visitors' interests and demands, making a visit to Künstlerhaus an experience which leaves a lasting impression beyond expectations.
 
LEARNING PROGRAMMES
The Künstlerhaus offers guided tours and workshops for children, students and adults about the Künstlerhaus and the temporary exhibitions. A rich programme of lectures, courses and educational events is realised on different occasions and during the holidays. Please contact us to get the latest info.

Schools
School and college groups are welcome at  Künstlerhaus. We offer a dedicated programme for all leves of education. Resources, sessions and teachers' previews accompany many special exhibitions. The entry for students (up to age 27) is free, the fee for a guided tour is Euro 50,-

Children & Families
For our youngest visitors we offer workshops on different occasions and during the holidays.
Please contact us to get the latest programme.

Adults
Künstlerhaus' adult learning programme includes lectures, artist talks, guided tours and workshops.
Please contact us to get the latest programme.

Projects
Künstlerhaus runs a range of collaborative and participatory projects with educational institutions, schools, teachers, artists and cultural and social associations.
We are always looking for inspiring collaborations - if you are interested in starting a partnership, we are looking forward to hearing from you!

VISITS - all visitors
For interested first time visitor or loyal Künstlerhaus friends this tour presents the institution, its artifacts & artworks and its artists.

Tour: The Künstlerhaus
(suspended until reopening June 2019)
With an exciting tour through the building visitors will get to know the Künstlerhaus and its association of artists, founded in 1861. They will get an insight into a traditional institution that has helped form the art, culture and political life in Vienna for over 150 years. The relationship of the Künstlerhaus with the culturally interested Emperor Franz Josef I. and his wife Empress Elisabeth (Sisi) will be highlighted, and theories and rumours on the resignation of Gustav Klimt from the association of artists and the founding of the Secession will be revealed.

We are looking forward to seeing you!